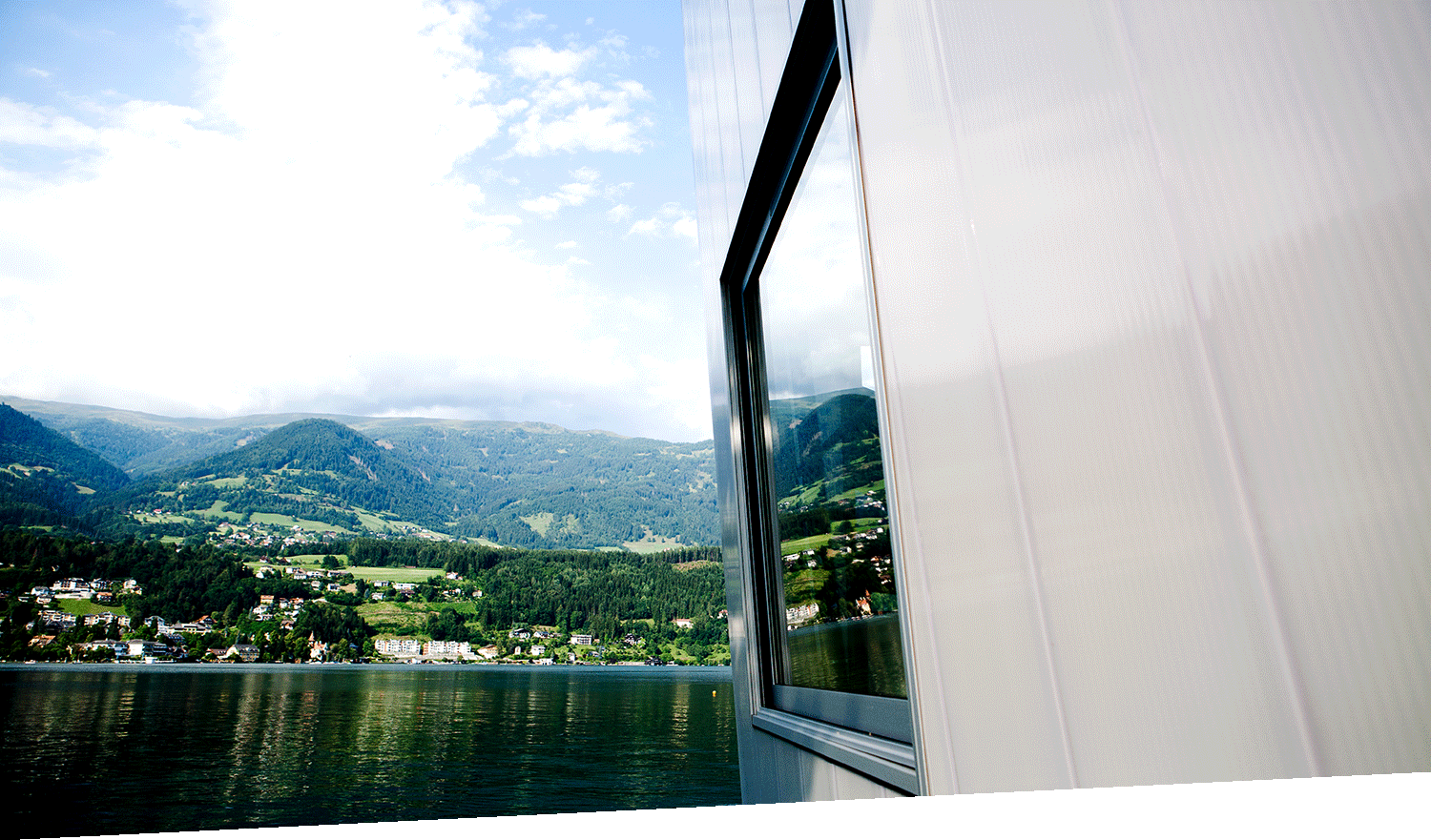 A Lakeshore where the Artistic Dice Are Cast
The visual experience of anyone who allows their gaze to sweep across the Millstättersee's placid southern shore is bound to be abruptly interrupted. Whether by a geometric triumvirate, a few randomly cast dice, or a simple "like" is a matter of individual interpretation.
Upon closer inspection, these geometric peculiarities reveal themselves to be temporary artists' homes of conspicuously purist design. A cube for painting. Another cube tilted towards the lakeshore that might evoke an urge to rescue it, like art itself. And a pentagon, whose balanced acoustics alone virtually predestine it for music.
soart artists-in-residence—realized after plans by Prof. Hans Hollein—provides selected Austrian and international artists with the opportunity to enjoy up to six weeks of inspired summertime creativity in an atelier by the lake, amidst nature's own rhythms.
The artists are selected together with curator Edek Bartz, himself both an internationally esteemed artist and a cultural manager. Raised in Kazakhstan, Bartz is active as a musician and author, has taught at the University of Applied Arts Vienna, and was most recently director of the art fair Viennafair.
Works from the South Shore 2011–2020
Markus Bacher
Yared Nigussu MAMO
Sophie Hassfurther
Ken Hayakawa
Johanna Mayr-Keber
Philipp Pankraz
Issa Salliander
Pier Stockholm
Franz Amann
Tasha Amini
Jeremy Deller
Maureen Kägi
Michael Kalki
Bettina Mürner
Nick Oberthaler
Silke Otto-Knapp
Vlatka Horvat
Pavel Ksiazek
Sonia Leimer
Christian Kosmas Mayer
Gaelle Obiegly
Drago Persic
Fiona Rukschcio
Jo-ey Tang
Jeanie-Aprille Tang
Pierre Weiss
Stefanie De Vos
Manuel Gorkiewicz
Kim Nekarda
Florian Neufeld
Shanta Rao
Travees Smalley
Spencer Sweeney
Alexandra Van
Mick Barr
Ramesh Daha
Irena Eden und Stijn Lernout
Jens Froeberg
Sofia Goscinski
Doris Hofer
Rupert Huber
Anna Jermolaewa
Alice Könitz
Sonia Laimer
Nick Oberthaler
Elisabeth Penker
Rade Petrasevic
Samuel Richardot
Rita Sobra Campos
Lena Gold
Lena Henke
Lisa Holzer
Anna Khodorkovskaya
Axel Koschier
Thomas Kratz
Caitlin Lonegan
Rita Nowak
Hanna Putz
Fabian Seiz
Jörg Reissner
Pier Stockholm
Iris Dittler
Beatrice Dreux
Andreas Duscha
Monika Grabuschnigg
Markus Hanakam & Roswitha Schuller
Flaka Haliti
Tobias Hoffknecht
Benjamin Hirte
Sadie Laska
Lazar Lyutakov
Birgit Megerle
Fernando Mesquita
Robert Müller
Andreas Reiter Raabe
Liddy Scheffknecht
Anne Schneider
Franziska von Stenglin
Pauline Beaudemont
Jessica Boubetra
Olga Chernysheva
Sophie Dvorak
Anja Gerecke / Stefan Rummel
Georg Haberler
Robert Holyhead
Michael Part
Marina Faust
Andrés Ramíres Gaviria
Francis Ruyter
Josef Schwaiger
Marina Sula
Michael Wedenig
Daniel Wisser
Alessandro Del Pero
Michelle Di Menna
Martin Jackson
Miriam Jung
Katrin Plavcak
Philipp Reitsam
Anna Schachinger
Andreas Werner
Jongsuk Yoon
Pauline Beaudemont
Clementine Coupau
Jennifer Delargo
Malika Fankha
Rui Miguel Leitao Ferreira
Klara Paterok
Teresa Präauer
Stefan Reiterer
Anne-Clara Stahl
Stefanie de Vos
Bernhard Frue
Sabine Gruber
Katharina Höglinger
Tina Lechner
Angelika Loderer
Alastair MacKinven
Mieze Medusa (Doris Mitterbacher)
Anne Speier
Camila Sposati
Christina Zurfluh
46° 48´ N, 13° 35´ O
These coordinates take one directly to the south shore of the Millstättersee, where Prof. Hans Hollein's Art Cubes were constructed to stimulate critical examination of architecture. One cube for painters, a second, slightly tilted cube for sculptors, and a pentagon with a pyramidal roof for musicians or writers.
Viewed from the water and from the opposite shore, these cubes invoke a significant silhouettes-like function against their topographic backdrop and serve by night as lighthouses of sorts for art's adventurers thanks to their translucent façades.
Soart artists-in-residence offers artists a chance to engage in inspired creativity amidst peaceful surroundings over multiple-week periods during the summer months. The Art Cubes are divided into multiple levels and feature floor space of between 50 and 100 m².
Each of their integrated apartments includes a double bed, a kitchen unit, a washing machine, and Wi-Fi. Out at the dock, small electric boats are provided that allow one to reach Millstatt within 10 minutes. This residency is only suitable for good swimmers. Invitations apply exclusively to the artists themselves, with other individuals permitted only upon prior written approval.
---
---
Contact
ADMINISTRATION OFFICE
soart GmbH
Thomas-Klestil-Platz 3
1030 Vienna
Austria
office@soart.at
VAT-ID: ATU59065745