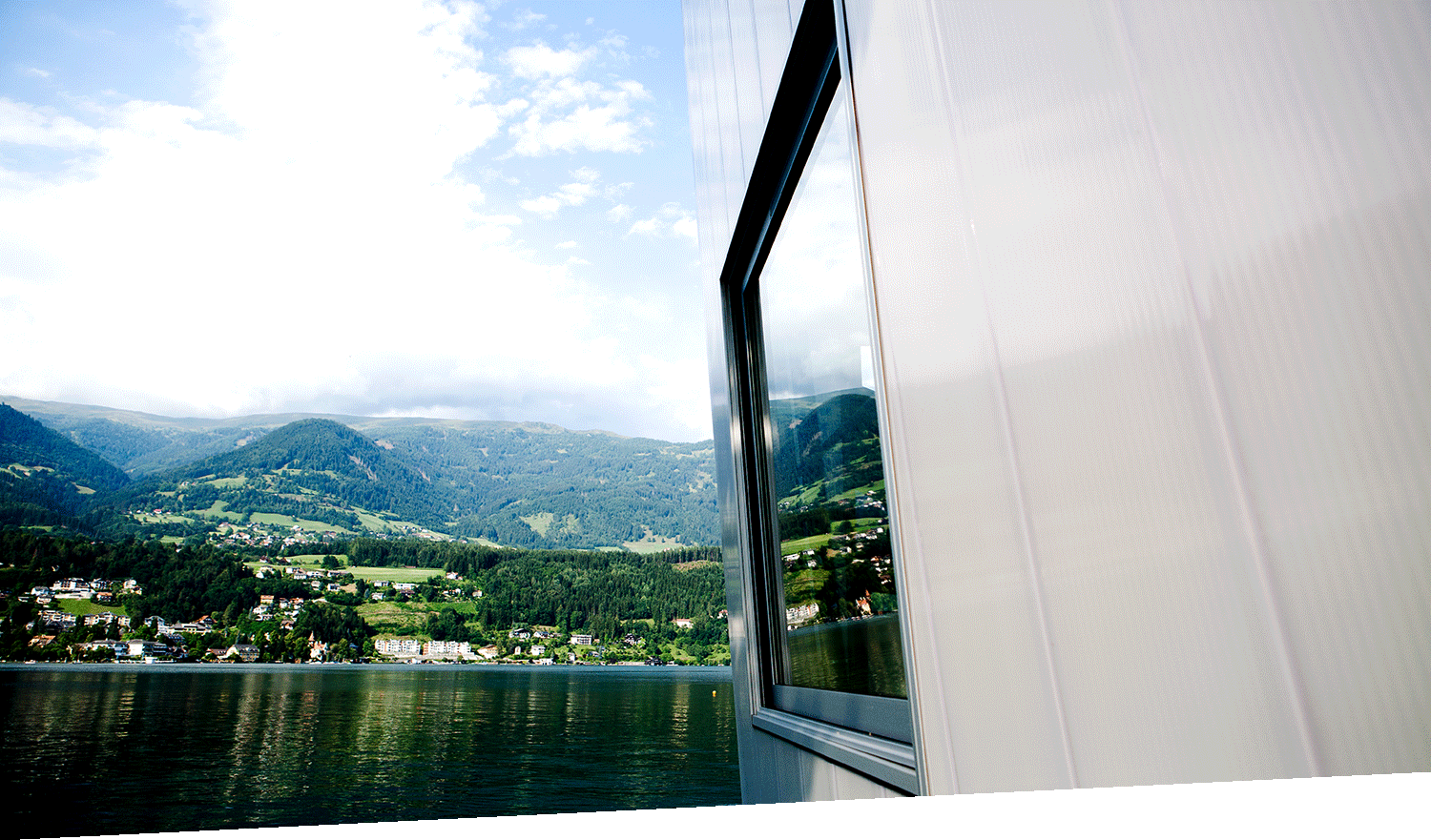 A Lakeshore where the Artistic Dice Are Cast
The visual experience of anyone who allows their gaze to sweep across the Millstättersee's placid southern shore is bound to be abruptly interrupted. Whether by a geometric triumvirate, a few randomly cast dice, or a simple "like" is a matter of individual interpretation.
Upon closer inspection, these geometric peculiarities reveal themselves to be temporary artists' homes of conspicuously purist design. A cube for painting. Another cube tilted towards the lakeshore that might evoke an urge to rescue it, like art itself. And a pentagon, whose balanced acoustics alone virtually predestine it for music.
soart artists-in-residence—realized after plans by Prof. Hans Hollein—provides selected Austrian and international artists with the opportunity to enjoy up to six weeks of inspired summertime creativity in an atelier by the lake, amidst nature's own rhythms.
The artists are selected together with curator Edek Bartz, himself both an internationally esteemed artist and a cultural manager. Raised in Kazakhstan, Bartz is active as a musician and author, has taught at the University of Applied Arts Vienna, and was most recently director of the art fair Viennafair.
46° 48´ N, 13° 35´ O
These coordinates take one directly to the south shore of the Millstättersee, where Prof. Hans Hollein's Art Cubes were constructed to stimulate critical examination of architecture. One cube for painters, a second, slightly tilted cube for sculptors, and a pentagon with a pyramidal roof for musicians or writers.
Viewed from the water and from the opposite shore, these cubes invoke a significant silhouettes-like function against their topographic backdrop and serve by night as lighthouses of sorts for art's adventurers thanks to their translucent façades.
Soart artists-in-residence offers artists a chance to engage in inspired creativity amidst peaceful surroundings over multiple-week periods during the summer months. The Art Cubes are divided into multiple levels and feature floor space of between 50 and 100 m².
Each of their integrated apartments includes a double bed, a kitchen unit, a washing machine, and Wi-Fi. Out at the dock, small electric boats are provided that allow one to reach Millstatt within 10 minutes. This residency is only suitable for good swimmers. Invitations apply exclusively to the artists themselves, with other individuals permitted only upon prior written approval.
---
---
Contact